Warren Motors Softball Club
Men's slo-pitch softball in Northern Florida had been growing in the 1960's and 1970's. Jo's Pizza, featuring H.T.Waller, finished second to Milwaukee Copper Hearth in the 1969 ASA Championship. Other teams were very competitive as well although most did not go to some of the big tournaments like the Stroh's or Ohio Valley Classic during the regular season and if they didn't win their Regional tournaments, they did not get as much national exposure. It was Harold Warren in Jacksonville who brought Florida its first Men's Slo-Pitch National Championship when his Warren Motors team won the ASA in 1976 in their hometown of Jacksonville, finishing the year with a 94-2 record.
He assembled players who came for the most part from the North Florida, including some of the best to ever play the game. Bruce Meade, Mike Nye and Ronnie Ford were the biggest stars along with Ray Fleetwood and Lonnie Turner and were managed by a top softball man, Darrell Leake. Mike Nye hit .769 that year and he and Ronnie were the co-MVPs of the ASA Championship Tournament.
The next year, despite losing Meade to Nelson's, Fleetwood to Howard's and Ford and Nye to Detroit Caesars (Nye started that year with Nelson's), Warren still finished in the top 10 at the ASA Championship. Unfortunately, as other sponsors continued to recruit their players, Warren Motors was disbanded. However, that team will always have a prominent place in softball history.
Post of the Internet: OK, old guys.I know you remember these guys out of Jacksonville. I know there are even guys on here from Jacksonville, and Hollis's etc. I remember the year that they won the ASA's and they were like 94-2 for the year.They were not the perrenial powerhouse like Howard's; but they had a heck of a team that year. They put it all together and dominated softball like no other in 1976.
A couple of the stand out names were/are Bruce Meade,Ray Fleetwood,Mike Nye,Lonnie Turner,Ronnie Ford.Old Mr Warren had that big fence around that dealership-it wasn't to protect the cars-just the trophies in the windows.Anybody here ever play against them? Where did all those guys go.?I think Mike Nye was the strongest ballplayer that ever put on a uniform.
Perhaps his favorite endeavor was creating the Warren Motors softball team which eventually won the National Open Slow Pitch Softball Tournament in 1976 at Drew Park in Jacksonville.


1977 at Jacksonville, FL
Warren Motors, Jacksonville, FL (1976 ASA Open Champ)        ——-    Armco Triangles, Middletown, OH (1976 ASA Industrial Champ)
Warren Motors won the series (5-0): –  MVP – Mickey McCarty, Warren Motors (24-28, .857, 17 HRs, 30 RBIs) – by ASA Balls and Strikes
This was the series that ended this ASA World series. The Open teams were getting to strong getting players from all over to play, while the Industrial teams were being restricted more. Warren Motors, who in 1976, went 94-2 and won the National Open Championship. The actually lost three of their best players from a year ago as Bruce Meade went to Oklahoma City to play for Nelson's Painting, while the tandem of Ron Ford and Mike Nye joined the Pro League to play for the Detroit Caesars. Don't tell that to Armco Triangles as this year's Warren Motors looks every bit as powerful. The margin of victory for Warren's in this series was the highest ever in the history of the ASA World Series. Warren's also set the record for most runs scored in the series. The tally was 175-71. Once again, there is limited information on the individual games in favor of just a recap of the series. Mickey McCarty was a run away choice for MVP as he had a series for the ages. There were other players that also had some great stats, including: From Warren's; Ray Fleetwood  (19-24, .792, 11 HRs); Bob Disney, Warren's 14-17, (.824, 9 HRs). Lonnie Turner, Warren (5-0 pitching, 11-14,  .786 batting), Micky Morrison (9 HRs), Phil King, Reggie Soehlig, Ed Roth, Mike Jacobs, Richard Mummaw and Darrel Leake accounted for the the other 32 HRs that Warren Motors hit. They had 173 hits and 77 were Home runs. Joe Wills of Armco was the top hitter for them (12-19, .632, 6 HRs) along with James Gomia (10-17, .588, 3 HRs)
Scores: (and some game notes)
– Pyramid Cafe 12 – Nassau County Police 4; – no information available on individual games
– Pyramid Cafe 14 – Nassau County Police 5; – no information available on individual games
– Pyramid Cafe 19 – Nassau County Police 7; – no information available on individual games
– Pyramid Cafe 9 – Nassau County Police 2; – no information available on individual games
– Pyramid Cafe 14 – Nassau County Police 3; – no information available on individual games

| | | |
| --- | --- | --- |
| | | |
| Mike Nye - Outfield | Bruce Meade - Outfield - Catch | Ray Fleetwood - Outfield |
| | | |
| Bruce Meade - Outfield - Catch | Mickey McCarty - Infield | Reggie Soehlig-Outfield |
| | | |
| Mike Jacobs - Outfield | | |
| | | |
| Ray Fleetwood - Outfield | Darrell Leeke - Manager | Darrell Leeke -Manager |
Jacksonville's Ford Set to Join Softball Hall of Fame; Former Warren Motors Star Dreamed of Playing for the Detroit Tigers
Byline: TENESHIA L. WRIGHT, The Times-Union
Southside resident Ronnie Ford turned to softball after walking away from the Kansas City Royals' Class A team at the age of 17. Now 49, Ford has accomplished more in slow-pitch softball than he ever could have imagined in baseball. Ford, who hit an estimated 2,000 home runs in his 20-year career, said he has won eight Amateur Softball Association national titles, including one with Jacksonville's Warren Motors. That's twice as many titles as Major League Baseball's Detroit Tigers, for which Ford aspired to play during his three-year professional softball career in Detroit. Ford, a native of Baltimore, will be inducted tonight into the ASA National Hall of Fame in Oklahoma City. The ceremony is being held in Orlando in conjunction with the organization's annual meeting. At first, I just did softball as something to do, but once I got into higher levels of competition, it kept growing," Ford said. "I had a lot of fun. I was pretty big in softball in Detroit. …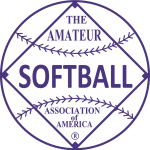 1976 held at Jacksonville, Florida.
---
Champion – Warren Motors, Jacksonville, Florida (94-2)
Runner Up – Paul Johnson Company, Indianapolis, IN
---
The championship game started well for Warren Motors right from the start, they won coin flip and elected to hit first. They proceeded to score 19 runs in the first inning.  Paul Johnson was stunned. Ray Fleetwood hit two 3-run homers and then a solo shot in that inning to account for 7 RBI. By the time the game was over, Warren had 37 hits and 14 Home Runs and the final score was 35-19 in favor of Warren Motors.
Fleetwood ended up with 4 HR and Mike Nye was 6-6. The Florida team, who entered the tournament with an incredible 88-2 record, went 6-0 to finish the season with the best record of all time in slow pitch softball (94-2). At one point during the season, Warren Motors won 78 games in a row.
Co-MVP Mike Nye, fittingly won the batting title (23-29) with a .793 average. Nye finished the season with the highest season batting average of all time (.769), a mark which would stand for almost 20 years.  On a side note – This is the second straight year that Long Island's Mike Foley finished lost the Batting Champion by .004 of a percentage point. In 1975, Foley lost out .737 to .733 and this year, he lost by .004 again as Mike Nye's .793 edged out Foley's .789 average.
---
Co-MVP – Ronnie Ford, Warren Motors (22-30, .733, 12 HR, 25 RBI, 21 Runs)
Co-MVP – Mike Nye, Warren Motors (23-29, .793, 7 HR, 20 RBI, 22 Runs)
HR Leader – Ken Carlton, Green Machine (19-29, .655, 31 RBI, 17 Runs) – 13
Batting Leader – Mike Nye, Warren Motors (23-29, 7 HR, 20 RBI)  – .793

FINAL STANDINGS (33 Teams)
1. Warren Motors, Jacksonville, FL 6-0
2. Paul Johnson Company, Franklin, IN 6-2
3. Duggan & Duggan, Chattanooga, TN 4-2
4. Bunch Brothers, Arab, AL 4-2
5. Green Machine, Starke, FL 5-2
6. Dubois Chemical, Columbus, OH 4-2
7. Ray Carpenter Co., San Antonio, TX 4-2
8. Preston Machine, Ansonia, CT 4-2
9. Beef Corral, Lakewood, OH 3-2
10. Howard Furniture, Denver, NC 2-2
11. Don Simpson's Cafe, Cincinnati, OH 2-2
12. BYM Club, Pittsburgh, PA 2-2
13. Pete Nicholosi, Lafayette, LA 2-2
14. York Barbell, York, PA 2-2
15. Jiffy Club, Louisville, KY 2-2
16. First Pacific Corp, Salem, OR 2-2

17. Pyramid Cafe, Cleveland, OH 1-2
18. Gartenhaus, Plainesville, CT 2-2
19. Pepsico Incorporated, Levittown, NY 2-2
20. Goshen Hutch Trucking, Goshen, OH 1-2
21. Jerry's Caterers, Miami, FL 1-2
22. Midstate Oil, Jefferson City, MO 1-2
23. Addies, Silver Spring, MD 1-2
24. Snodgrass & Sons, Wichita, KS 1-2
25. T-Wright, Hopkins, MN 0-2
26. MCU Sports, Boise, ID 0-2
27. Bay Area Merchants, Pinole, CA 0-2
28. Jet Trophies, Rye, NY 0-2
29. Aristocrat Inn, Waukesha, WI 0-2
30. Arizona Tortilla, Phoenix, AZ 0-2
31. Armed Forces, USA 0-2
32. Favorite Knits, Parma, OH 0-2
33. Goofys, Minneapolis, MN 0-2
Co-MVP – Ronnie Ford, Warren Motors (22-30, .733, 12 HRs, 25 RBIs, 21 Runs)

Co-MVP – Mike Nye, Warren Motors (23-29, .793, 7 HRs, 20 RBIs, 22 Runs)

HR Leader – Ken Carlton, Green Machine (19-29, .655, 31 RBIs, 17 Runs) – 13

Batting Leader (15 ABs) – Mike Nye, Warren Motors (23-29, 7 HRs, 20 RBIs)  – .793
P – Lonnie Turner, Warren Motors (13-22, .591, 5 HRs, 20 RBIs, 15 Runs)
C – Bruce Meade, Warren Motors (17-27, .630, 4 HRs, 9 RBIs, 15 Runs)
SS – Ronnie Ford, Warren Motors (22-30, .733, 12 HRs, 25 RBIs, 21 Runs)
OF – Mike Nye, Warren Motors (23-29, .793, 7 HRs, 20 RBIs, 22 Runs)
OF – Ray Fleetwood, Warren Motors (21-32, .656, 9 HRs, 20 RBIs, 15 Runs)
OF – Reggie Soehlig, Warren Motors (18-26, .692, 5 HRs, 14 RBIs, 10 Runs)
3B – Ledon Green, Warren Motors (15-26, .577, 8 HRs, 15 RBIs, 15 Runs)